iPhone + ifttt = IoT wifi sensor platform
Can't wait for Twine, Ninja Blocks or Node? Use an old iPhone or iPod Touch as an Internet of Things wifi accelerometer (movement sensor) with a simple app and if-this-then-that.
Pics or it didn't happen
Once you have it all working (or if you use my toy code), you'll have an iPhone app that gives you a screen like this: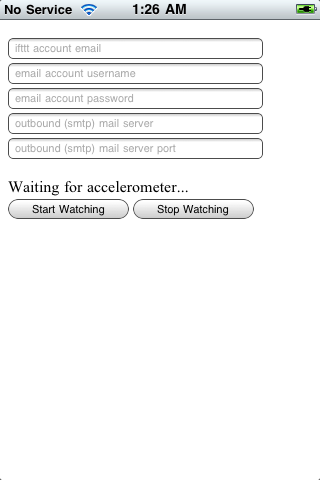 Provide the credentials, press "Start Watching" and wiggle the phone around and you'll see:
Within a minute, you'll see this in your Mandrill dashboard (or, presumably, your mail service's Sent folder):
Within fifteen minutes, your ifttt task will run, and the trigger will cause your action to run, visible in your ifttt activity log:

My ifttt action was to send me a text message, which I successfully received: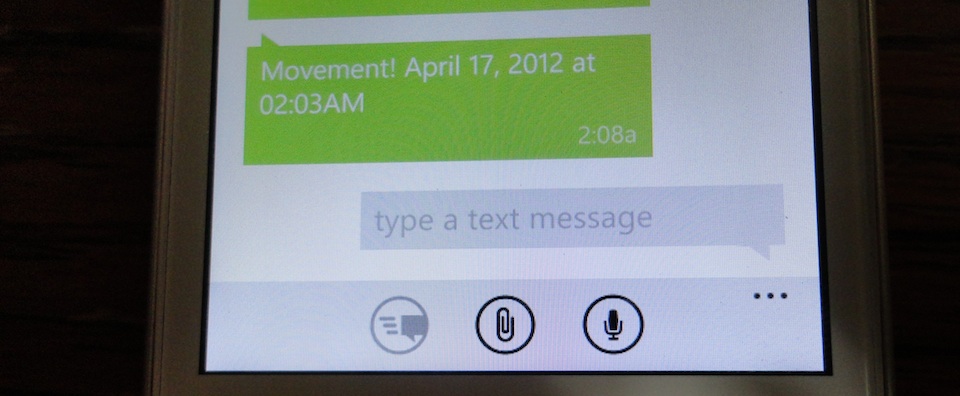 Left as an exercise for the reader
iPhones have two additional sensors: the ambient light sensor and the proximity sensor, neither of which is exposed by PhoneGap. A native iOS application in Objective C (or a PhoneGap plugin in the same) could, though.
If all you really wanted to do was send text messages, routing through iftttt via email via Mandrill via SMTP is a little circuitous. You could simplify it by using Mandrill's API instead of SMTP. You could you use a service like Twilio to send text messages directly. You could beg, borrow or steal access to Spool or Ninja Cloud. You could send the raw accelerometer data much more frequently to a service like Pachube instead.
iPhones and iPod Touches also have microphones: native iOS code could listen to the microphone and react based on noise or other ambient audio changes.
Three sensors isn't a lot, but hardware like the Square credit card reader demonstrates that the microphone jack can also be used for data collection. You could hook any custom sensor up that way (see Project HiJack or this blog post on using an Arduino for the same), as the dock connectors require special hardware (unless you have sensors that can talk over a serial port, in which case this serial cable from Redpark is for you).
I have no plans to or interest in building out this particular toy app into an experimental sensor platform for the App Store. But, hopefully I've demonstrated that even basic Internet of Things design and implementation work is possible with only a little bit of JavaScript knowledge and a disused iPhone as your sensor platform. This allows you to collect accelerometer data over wifi and practice working with and visualizing it without waiting for a new hardware platform to launch.
Colophon
This has detailed a toy IoT sensor platform app I wrote over the course of three nights the week of April 9, 2012. It took one night to jailbreak my first-gen iPhone and get the installd patch on it, a second night to figure out which PhoneGap version would work and test the accelerometer, and a third night to get the connection to ifttt working. I had been using my own mail server, but the Mandrill connection "just worked" and I took these screenshots as I was writing this document to serve as illustrations (my actual ifttt task has around 15 firings from last week).
This was produced as a demo for IxDA Austin's Making the Internet of Things meeting, April 17, 2012.
It's April 17, 2012. I'm Vitorio, thanks for reading. Tweet