Notes on a Dell Inspiron 5675
Back to a desktop
After two years with a Razer Blade Stealth and Razer Core (May 2016, December 2016), I had outgrown the dual-core CPU, and the BIOS boot loop problem was just annoying enough.
I wasn't thrilled about assembling a PC from components, and just before the launch of the Ryzen 2 CPUs, I picked up a pre-built Dell Inspiron 5675, with a Ryzen 7 1700X, 8GB RAM, 1TB rotational hard drive, a Radeon RX 570, and plenty of USB 3.0 ports, on sale.
Performance
The 8-core Ryzen CPU dramatically out-performs the dual-core 6th-gen i7 6500U, but the GTX 1080, even with the performance hit of the Thunderbolt 3 bus, is still enough to bring up the laptop's numbers against the Radeon.
The Stealth + Core with the GTX 1080 (left) clearly beats the Ryzen + Radeon (right) in the Fire Strike Ultra and Time Spy benchmarks:


It's not until the more stressful Orange Room VR benchmark that the Ryzen + Radeon pulls ahead:

Swapping GPUs
There's no way I was going to keep the Radeon RX 570 in there, but while the Inspiron chassis seems otherwise well laid out and easy to get into, the Radeon is held in place, in part, by a bracket.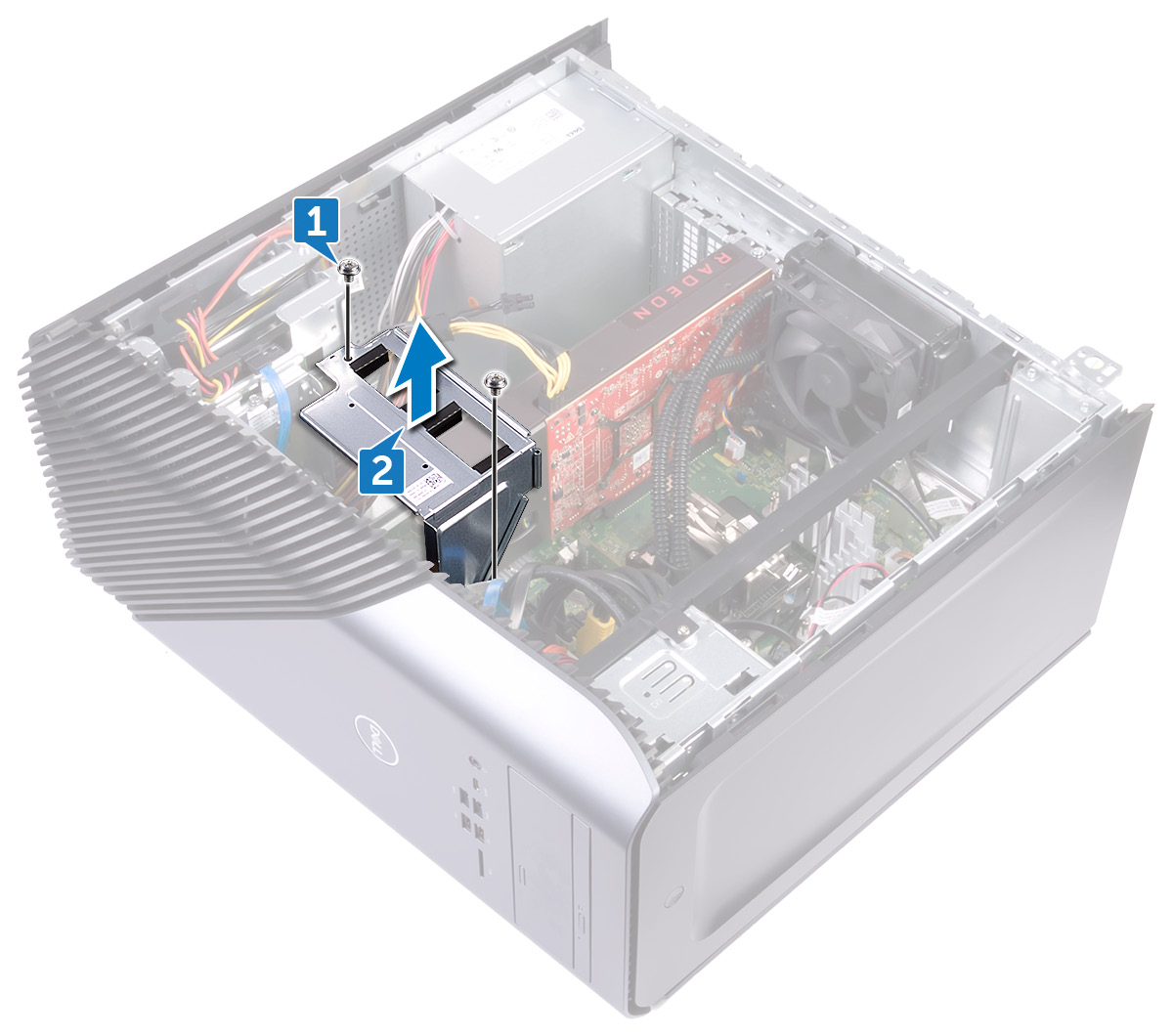 The bracket has holes cut out in it, where the power connector for the GPU is expected to present itself.
The Radeon's power connector is in a significantly different place than the GTX 1080's is.
I ended up having to take a pair of tin snips to the bracket, cutting the top hole wider, about halfway into that white sticker. I also had to bend the internal tabs on the bracket out a little, as the GTX 1080 is also apparently slightly wider than the Radeon.
As expected, the Ryzen + GTX 1080 (far right column) cream the Stealth (left) and Radeon (center):


Steam VR also takes note of the difference between the Ryzen with the Radeon (left) and the Ryzen with the 1080 (right):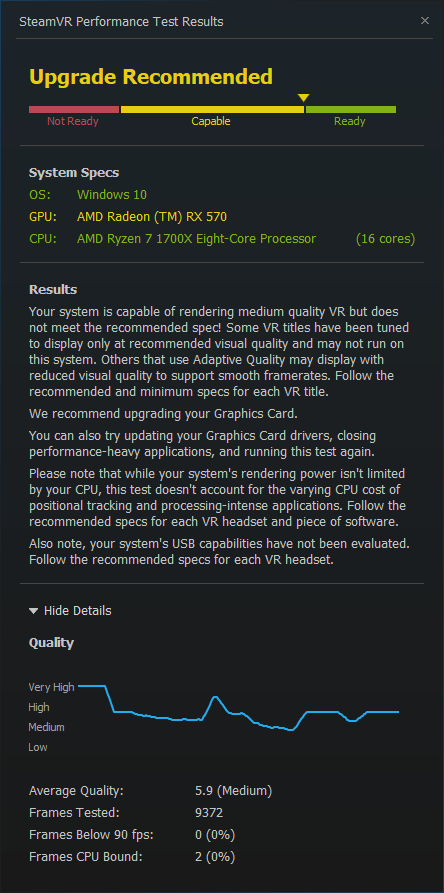 Later, I learned there's an Intel model of this machine, the 5680, with a very similar chassis, and a full-size GeForce 1070 in it. The metal bracket looks like it's wide enough to support the location of the GeForce 1080's power plug.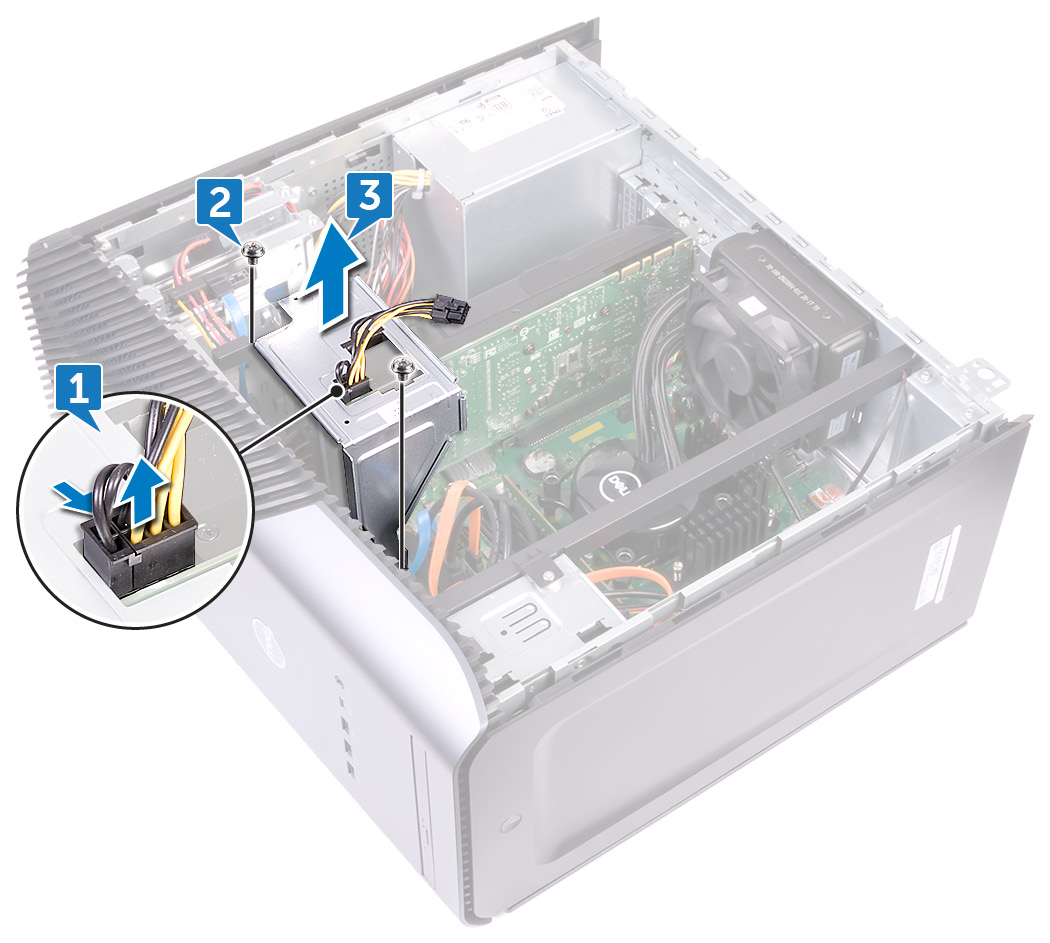 A chat with a Dell customer support representative and $2 + shipping later, it arrived!
And, it doesn't work.
While it is the right size bracket that fits into the place inside the chassis, and the hole in it is wide enough for the GeForce, it also expects the GeForce to be half a slot lower. The Intel motherboard must be laid out a little differently. Womp womp.
Update July 30, 2021: Did you know they just make little GPU helper holder upper stands? Ahead of an office move, I got rid of the bracket entirely and installed this GPU brace.
AMD driver issues
The Radeon drivers can't be uninstalled by themselves; uninstalling "AMD Software" uninstalls all the AMD drivers on the system.
The Ryzen chipset drivers need to be reinstalled afterwards.
Oculus Rift audio issues
The preinstalled Waves MaxxAudio Pro software appears to screw with the Oculus Rift headset's audio, causing it to cut out intermittently.
Disabling the service appears to resolve the issue.
USB sleep issues
The included Dell-branded USB keyboard and USB mouse, when plugged into the rear or front USB 2.0 ports, appear to prevent the PC from sleeping (more specifically, once asleep, they immediately wake the PC up again).
Plugging them into the USB 3.0 ports, or disabling their ability to wake the computer from sleep in Device Manager, appears to resolve the issue. (To wake the computer from sleep, use the power button.)
Oculus Rift USB issues
Sometimes the Rift sensors or headsets will fail on resume from sleep. They don't seem to have that problem on a fresh boot. Do they need to have their power suspension disabled?
Upgrade options
Trying to figure out possible upgrade paths. I can definitely tell (and hear) it's running from rotational media instead of an SSD, but a straight drive swap is not the only option.
From a performance/cost perspective, an inexpensive 128GB SSD as cache, and an extra 8GB of RAM, are probably the two upgrades with the most immediate return on investment.
Incremental storage upgrades after that are probably worth more than worrying about the GPU, CPU, PSU, or motherboard, and will have the greatest portability to a new system.
Memory
There's apparently a 10-15% speedup on the CPU if I fill both memory slots. There's one 8GB stick in there already, which means either matching spec with the 2400MHz Dell memory, or getting two replacement sticks.
The 8GB stick from Dell is $148. Name-brand replacement of both sticks isn't much more, $165.
Two replacement 16GB sticks looks like it'd be ~$400??
If I can hock the 8GB stick, that'd be worth it to get the all-new RAM, and have no risk of the dual channel timings not working.
Update November 23, 2018: Black Friday found 16GB (2x8GB) ADATA XPG GAMMIX D10 DDR4 3000 desktop memory on sale for $88, half the price from this spring. I think these red sticks are equivalent, but it's hard to tell, with slightly different performance timings, colors, and model numbers, it feels like PC memory is like mattresses. No idea if or how I'll be able to hock the original 8GB stick. Craigslist?
Update November 26, 2018: Can confirm performance improvements. The stock RAM was DDR4-2400, timings of 17-17-17-39. This new RAM is DDR4-3000, running at 2666, timings of 19-19-19-43. (All I know is that lower timing numbers are better.) The CPU speedup from both channels being there is real (stock single 8GB stick left, new 2x8GB sticks on right).
16.5% CPU score improvement in Time Spy: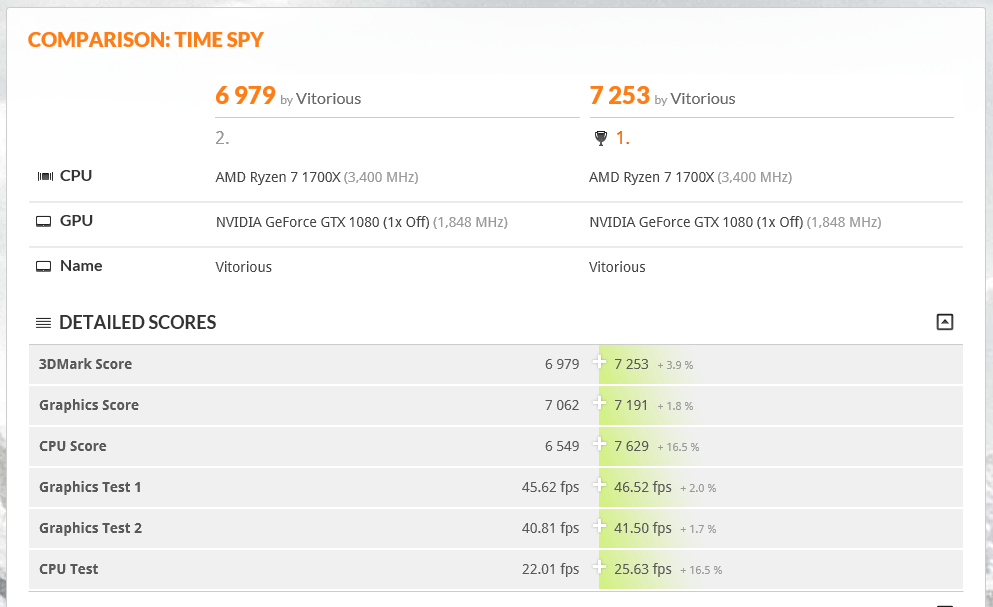 10.6% framerate improvement in Orange Room: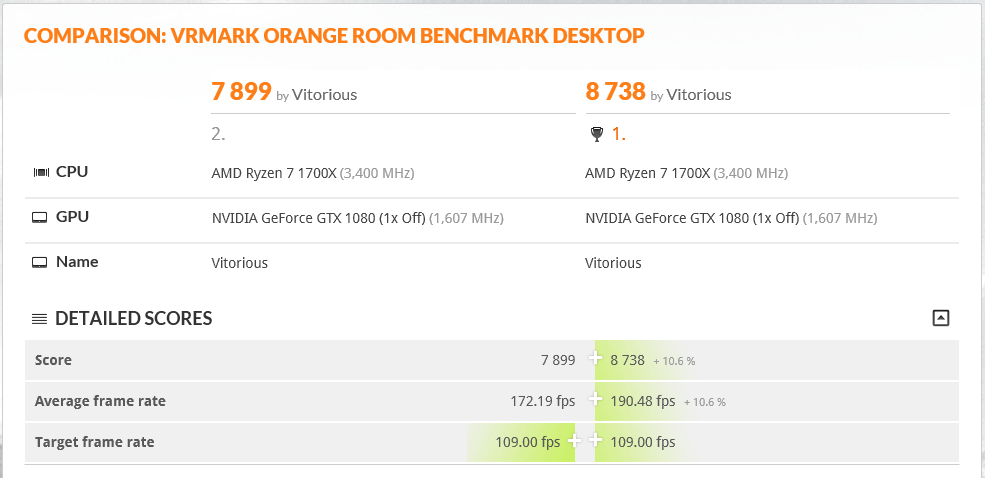 (The GPU-bound Fire Strike Ultra benchmark only showed a 0.5-2.6% speedup.)
Hybrid drive
AMD has a "StoreMI" hybrid drive solution for its new Ryzen 2 CPUs and X470 motherboards, but my first-gen processor can get the same thing from a third party as Enmotus FuzeDrive for AMD Ryzen.
$20 + SSD for a 128GB SSD cache, $60 + SSD for up to a 1TB cache. I've seen ~128GB SATA SSDs for $50 or less. It wouldn't help for e.g. video editing, but startup and launch would see a 2-10X improvement.
A larger drive could have a cache plus a regular disk portion, for storing files that needed fast use before moving them to the rotational media. 500GB SATA SSDs are running ~$150, NVMe SSDs are ~$200.
An upgrade path might be a small 2.5" SATA SSD for < $50, followed by a large M.2 SATA drive for storage, followed by a large M.2 NVMe drive to migrate the OS to. If I keep the 1 TB drive at all, I'd keep the SATA SSD for performance, otherwise I'd pull it to reduce power consumption.
Update November 23, 2018: Time continues to drive down SSD prices, and since I'm opening it up to install RAM, might as well also install a $26 2.5" SSD. There's a dedicated 2.5" bracket and power cable already, which is nice, just need an SATA cable. Ordered a 120GB Crucial BX500; Black Friday had generic brands for $5 cheaper, but I'd rather have the recognizable name. That's the max space for the fusion drive; there's no point in getting a larger SSD and also spending $60 on software, when $60 can get a 500GB SSD now, and I'm not doing enough data processing that the rotational media is dragging me down yet. Under $50 gets me a boost without having to migrate anything to new disks.
Update November 26, 2018: Enmotus driver installation was weird, but worked. Boot is now almost instantaneous, after I force it to boot. For some reason it tries to PXE netboot a couple times first, and I have to hit Escape a couple times to get it to try local boot. Windows Boot Manager is the priority in the BIOS, though, so, 🤷? I'll file a ticket with Enmotus after I reboot and document it.
Update March 31, 2019: It's only kind of hinted at in the Enmotus knowledge base, but I guess there are instances where some BIOSes don't like booting from one of the drives (either the SSD or the HDD), and want to boot from the other drive? So if you go into the BIOS and add a second boot option pointing to the UEFI boot thingus on the other drive, and have both disks before PXE boot, it'll skip the one it doesn't like and use the one it does. Boot times do not seem to be affected (except now I don't have to hit Escape twice).
Update October 11, 2020: An updated Enmotus driver started reporting possible disk failures, but $100 gets you an M.2 form factor 1TB SSD now, so out went the rotational drive and 2.5" SSD, and in went a 1TB NVMe for the OS and 1TB SATA for data. Dell's SupportAssist OS recovery tool will restore the on-disk recovery image even onto new disks, so no backups needed, just un-fuse the fusion drive, pull it, and have SupportAssist restore to the NVMe. The BIOS updated itself. Windows 10 1909 was installed; it's probably best to skip running Windows Update repeatedly and just download and install the Windows 10 Update Assistant to jump right to 2004. Interestingly, the USB sleep issues also appear to be resolved with the fresh install.
Power supply
The 5675 comes with a 460W PSU. My founder's edition GTX 1080 recommends a 500W power supply when used with a Core i7 3.2GHz processor. The Ryzen 7 1700X has a TDP of up to half what a Core i7 does. I haven't experienced any power loss from attempted overdraws, and my UPS only reports a draw of around 300W when in benchmarks.
There is an 850W OEM Dell upgrade option, which would fit in the chassis without having to cut any of the frame (due to a relocated power plug, apparently). If I wanted to go to dual GPUs, it would be required. It's also, apparently, over $200.
CPU
While the Ryzen 2 CPUs are technically compatible with the X370 chipset, it depends on motherboard manufacturers to have designed the board to support its power needs, and possibly BIOS support.
It's unlikely that just dropping in a Ryzen 2 would work, given Dell's history.
There is a Dell stock water-cooling option for the CPU, though, which might be nice if its temperature starts rising. Sales chat says ~$140.
Update July 30, 2021: The internet reports that this model should be able to accept a Dell OEM Ryzen 2 CPU. The Ryzen 7 1700X is a Summit Ridge CPU, so this should be the "7PR60 AMD Ryzen Summit Ridge CPU, Wistron & Foxconn" motherboard. The non-X Ryzen 7 2700 appears to perform identically to the 1700X, at 30 watts lower TDP, which could make all the difference if I wanted to put a 3070 in here instead of a 3060. Flashing the latest BIOS, or a 5676 BIOS, should make it possible.
Motherboard
The motherboard doesn't run the PCI Express slots at x16. Seems like when I'm burning for a second GPU or faster CPU, it'd make more sense to get a new computer, rather than experience the SLI slowdown or wish for an updated BIOS.
GPU
Update July 30, 2021: With the current PSU and first-gen Ryzen, a 3070 takes too much power to replace the 1080 with. A 3060 should be okay. (Assuming one fits, and one can find one in stock.) A 3070 tested was mostly stable, but not 100% reliable across multiple stress tests.
Oculus Rift sensor mounting
With the new computer came a move to a larger room to use it in, and the desire for a better mounting option for the Oculus Rift sensors than just clamping them to my desk.
I went with two extra-long tension rods to work vertically in a ~96" tall room plus two Grafiti Nootle pipe clamps to screw the Rift sensors into and clamp them to the tension rod. I've seen other clamps recommended, but the Amazon reviews made it clear they wouldn't hold up the sensor well enough, or would require the sensor to be mounted upside down because the threaded mount didn't lock in place. The threaded mount on the Nootle does.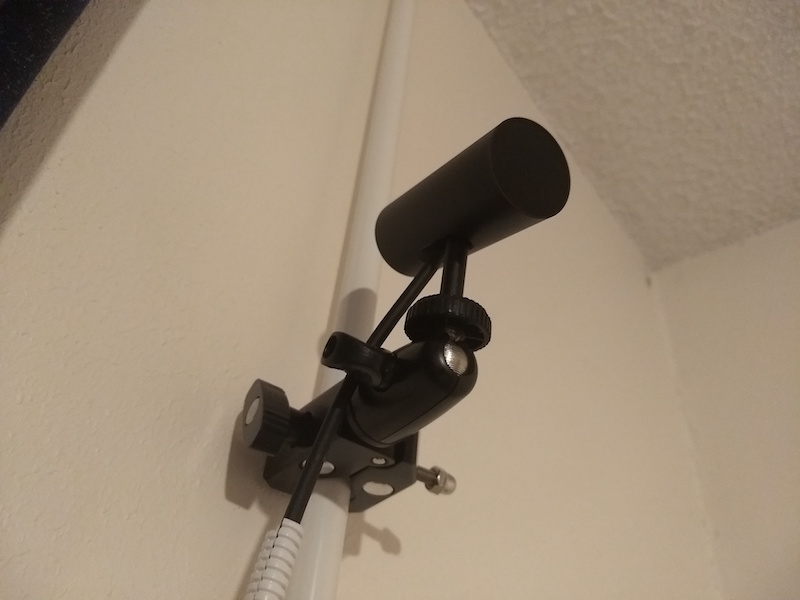 Both are currently mounted about six feet off the ground, we'll see if I need to push them higher.
There's also enough room in here for a third Rift sensor mounted the same way.
Followups
This document is ongoing. Updated May 11, 2018 with 5680 bracket details. Updated November 23, 2018 with RAM and SSD upgrade details. Updated November 26, 2018 with post-installation notes. Updated March 31, 2019 with boot notes. Updated October 11, 2020 with SSD upgrade details. Updated July 30, 2021 with CPU and GPU upgrade details.
As an Amazon Associate I earn from qualifying purchases.
I'm Vitorio, it's April 30, 2018, thanks for your time.